Calvin Harris and Rihanna's iconic collab, "We Found Love" (2011), is is one of the most cleverly constructed songs of this decade. It's a pop song embedded within an EDM track. While most hybrid songs fuse two genres into a single song structure, Harris
keeps both structures
in tact by taming the sonic development of the pop song structure in "We Found Love" just enough so that its internal progressions can act as 'supersections' within the larger EDM-track structure.
​Really cool stuff!
To gain a better understanding of the setup-buildup-climax progressions, check out my blog post about
Sonic Functions
.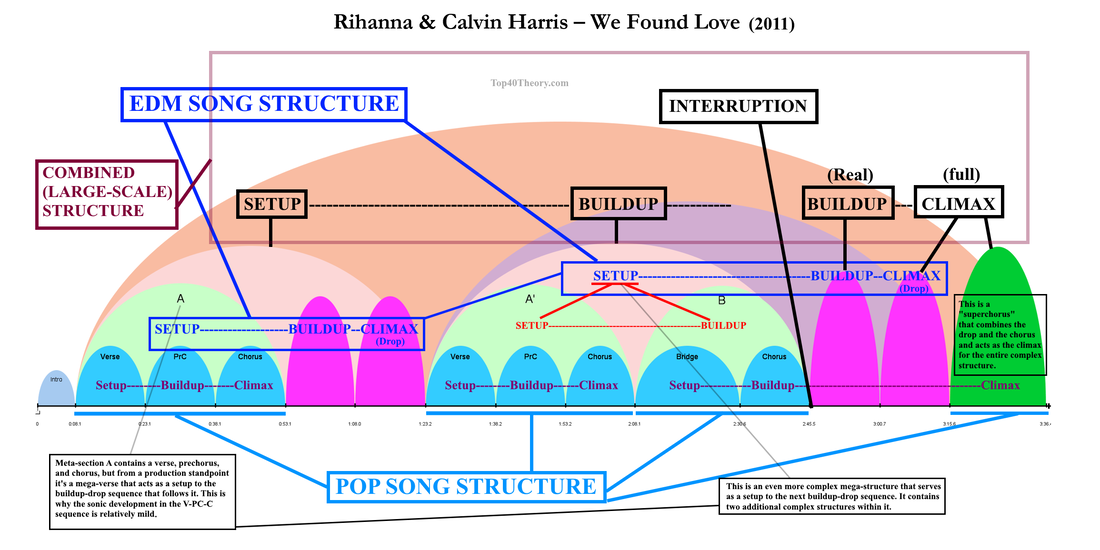 Top40 Theory provides advanced music theory and composition knowledge, as well as consulting/coaching services, to pop songwriters and producers. You can follow Top40 Theory's Twitter, Instagram, and Facebook page, as well as join the mailing list via the form located in the sidebar, to receive updates about new posts and other pop music theory related musings. You can also join the growing community of highly accomplished songwriters, producers, theorists, and composers at the Top40 Theory Facebook group.
Created with